Dermhage Fine Touch 1x1ml - L'Esthetic Paris
Description
- DERMHAGE Fine Touch is a hyaluronic acid booster particularly suited to gently correct fine wrinkles, crow's feet and to revitalize, hydrate and regenerate the skin.
- It contains a stabilized and highly purified form of hyaluronic acid with a structure identical to that of body hyaluronic acid.
- The low-crosslinked gel texture is particularly soft and spreads well thanks to the innovative SRHA (Smooth Rheology Hyaluronic Acid) technology. DERMHAGE Fine Touch is therefore not only suitable for the face, but also for areas with a low skin thickness, such as the back of the hands, the neck and the décolleté.
- The result is a natural-looking glow and a healthy, rejuvenated complexion.
- Dermhage Fine Touch is intended for the treatment of fine lines, superficial wrinkles and lip correction.
- The product should be injected intradermally.
Recommended treatment areas
- Superficial wrinkles, crow's feet
- Dark circles and tear troughs
- Dehydrated skin
- Regenerating the skin
- After heavy UV exposure
- Minimizes acne scars and stretch marks
Suitable for specific areas:
remodelling of the neck and décolleté, back of the hands, upper arms.
Application protocol
Depth of injection: between the dermal and epidermal layers, superficial or supraposterial
Injection technique: papula or micro-papula, threading, blanching
Duration of effectiveness: 6 months in case of isolated injection, up to more than 9 months in case of 3 injections spaced 15 days apart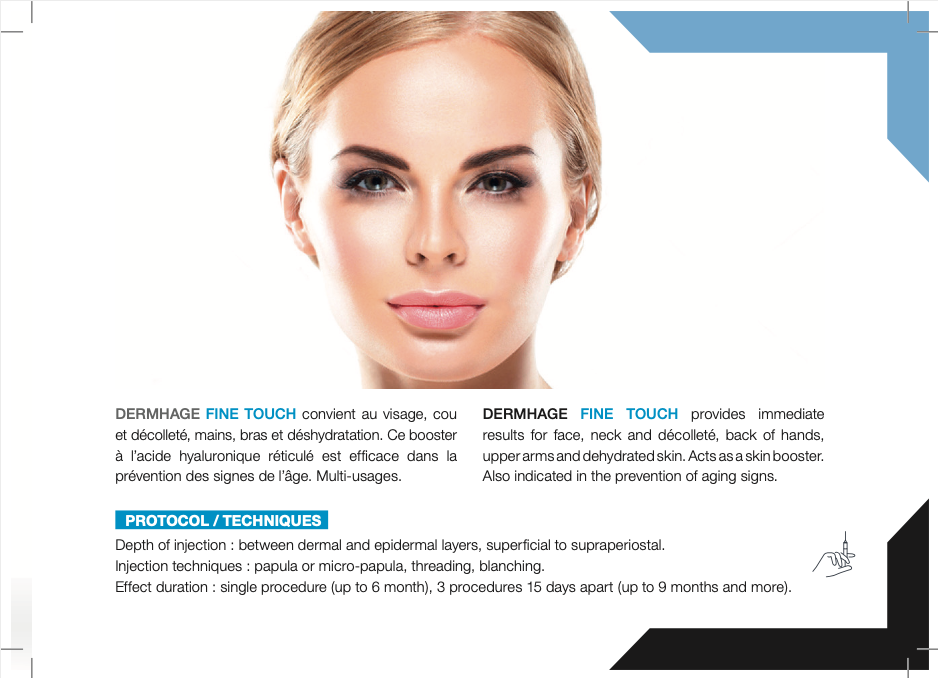 Reviews about this product

Show attestation
perfect (Translated review)

Perfect! (Translated review)
Customers who bought this product also bought: